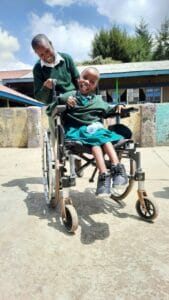 In 2013 we began what has become the largest distribution of mobility devices in Nakuru County. Over the years we began bringing 2-3 wheelchairs every time we visited Kenya but word spread and soon the demand was much higher than we expected.
We eventually began the mammoth task of shipping our first container of wheelchairs, walkers, and crutches to Kenya in 2015. We spent the next year thereafter gifting independence to over 250 deserving people. Word spread and the waiting list for devices grew. Last year, at the height of the pandemic, we sent our second container full of medical equipment and mobility devices.
Our partners are busy on the ground distributing all of the devices as we speak. Now as a well established disability project, we continue receiving large donations of mobility devices. This round we want to focus more on specialized wheelchairs for athletes, tricycles and other devices for adults who need to get from one place to another, and wheelchairs for small children. We need your help to make this happen! Please consider donating towards our next container!
ALTRUJA-PAGE-KDI9